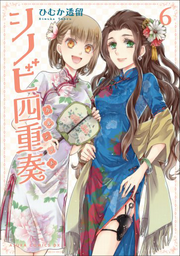 Shinobi Shijuusou (シノビ四重奏 Shinobi Shijūsō, literally meaning Shinobi Quartet) is a Romantic Comedy manga series created by Himuka Tohru. It is currently serialized by Monthly Asuka.
Chouko Manaka is the next heir to the prestigeous Manaka family. Now she is entering high school and she has had enough with being surrounded by bodyguards, who have prevented her from making any friends. Her father is still worried though, so he makes a deal with her. If she transfers to Mizuno-o high school, where many of the students are also studying to be shinobi and can get one of these people to be her right-hand man by graduation, he'll consider her to be able to make decisions for herself.
On the first day of school Chouko meets the son of their butler, who suddenly declares that he wants her to be his master?!
Characters
Edit
Main Characters
Edit
Supporting Characters
Edit
Ad blocker interference detected!
Wikia is a free-to-use site that makes money from advertising. We have a modified experience for viewers using ad blockers

Wikia is not accessible if you've made further modifications. Remove the custom ad blocker rule(s) and the page will load as expected.